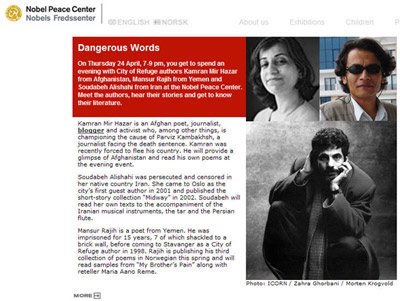 Kamran Mir Hazar to speak at Nobel Peace Center, Oslo
By Robert Maier
Published in Kabul Press (Monday 24 March 2008)
Kamran Mir Hazar, founder and publisher of Kabulpress.org, the most read Dari news site in Afghanistan has been invited to appear at a special event titled "Dangerous Words" at the noted Nobel Peace Center in Oslo, Norway on Thursday April 24 from 7pm-9pm. He will discuss various crises in Afghanistan, especially the growing problem of government censorship of media and official corruption that has resulted in the disappearance of millions of dollars in international assistance funds over the past six years. He will also be reading from his past work.

The event is being co-sponsored by the International Cities of Refuge Network(ICORN), based in Norway, which assists writers facing political persecution in their own countries. Kamran has been an author, media activist and blogger, since winning a poetry prize in high school. His outspoken and persistent political writings have resulted in several arrests, illegal detentions, and numerous threats of violence against him.
"Dangerous Words" will include the author, Soudabeh Alishahi, a female Iranian author now living in exile, and Mansur Rajih, a poet from Yemen who was imprisioned in his home country for fifteen years.
The Nobel Peace Center was opened in 2005 to honor past Nobel Peace Prize laureates by providing a central facility for art exhibits, film presentations, lectures, and meetings, which promote the quest of Alfred Nobel to bring peace to the world.
Related Posts