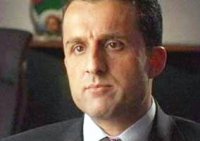 Head of NDS is against freedom of the press
By Kamran Mir Hazar
Published in Kabul Press (Saturday 2 February 2008)
According to Afghanistan's constitution and mass-media law, the Afghan Intelligence Service (NDS), Police, and Attorney General are not allowed to imprison or arrest journalists in Afghanistan. Only the Media Commission has the right to investigate accusations, and only then can cases be transferred to the Attorney General.
However, the Afghan Intelligence Service illegally pursues, arrests, prosecutes, and tortures local journalists every single day.

Two years ago, the NDS published a "letter of censorship" that warned journalists not write stories critical of the Afghan government. Soon after, they began to arrest and torture journalists.
In Helmand province, a journalist was arrested and spent an unlawful year in prison. Shortly after, NDS asked the chief editor of the daily newspaper, Arman Mile, to visit their headquarters, they detained Tolo TV staffers, and twice detained Kabul Press's Editor-in-Chief. NDS's most recent action was the arrest and imprisonment of Parwiz Kambakhsh, the young journalist from Balkh province who now faces a death sentence.
The NDS holds local journalists in the same cells as Al Qaeda and Talibanprisoners. The Afghan Human Right Commission Report and AmnestyInternational have confirmed the torture of prisoners in Afghan Jails, including the journalist prisoners.
Salih
According to reliable sources, high-ranking officials, especially Amrullah Saleh, are behind the torture and arrest of innocent journalists and reporters who criticize the government.
I ask all local media and journalists to write and raise their voice against the illegal actions of Afghan Intelligence Service.
Isn't it time to discharge Mr. Amrullah Saleh, the head of NDS, and charge him with illegal proceedings against journalists and the free press?
Reporters without Borders has made a list of people around the world who oppose freedom of the press, isn't it time to add Amrullah Saleh's name too?
Related Posts